Mark D. Gibson, CEO and Executive Managing Director of HFF, answers five questions about his organization.
How would you describe HFF in one sentence?
HFF is one of the largest commercial real estate capital market intermediaries in the country specializing in debt placement, investment sales, equity placement, mergers and acquisitions, loan sales and loan servicing.
What makes HFF different from other companies in the capital markets business?
Our firm's team-oriented culture, a value-add compensation structure , a business model which does not compete with its clients, and an average tenure at HFF of 13.7 years among our senior producers – this definitely sets us apart from our peers.
How has today's booming economy affected HFF?
HFF posted record total transaction volume in 2015 of $76.2 billion. This is a 17 percent gain compared to 2014 and an 82 percent gain over the last three years.
What is something we may not know about HFF?
Since 1994 HFF has experienced four major ownership changes, all with the same partners. HFF sold to Amresco in 1994, sold to Lend Lease in 1998, management bought the firm back in 2003 and management took the firm public in 2007. HFF is currently traded on the NYSE under the symbol HFF.
How does TREC membership benefit HFF? And as a former TREC Chairman, what did you enjoy most about TREC leadership?
HFF values TREC membership for the networking opportunities with the decision makers of the largest and most respected real estate firms in Dallas. TREC also provides us with opportunities to utilize our real estate experience to give back to Dallas and help our community become a "world class" environment.
As former TREC Chairman, I utilized the business and real estate knowledge I've learned over the last 31 years to help serve TREC's mission. I enjoyed giving to deserving areas in Dallas through real estate related projects such as St. Phillip's School and Paul Quinn College, supporting legislative agendas to help the City of Dallas develop best in class real estate with the most reputable development companies in the world and mentoring young professionals to educate them on the various drivers of major metropolitan areas such as education, transportation or corporate relocation.
About HFF
HFF operates out of 22 offices nationwide and is a leading provider of capital markets transaction services to the U.S. commercial real estate industry. HFF, together with its affiliate, HFFS, offers clients a fully-integrated national capital markets platform including debt placement, investment sales, equity placement, advisory services, loan sales and loan servicing. HFF (Holliday Fenoglio Fowler, L.P.) and HFFS (HFF Securities L.P.) are owned by HFF, Inc. (NYSE: HF)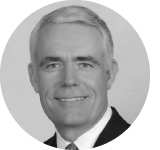 Mark D. Gibson became a director and Vice Chairman of HFF, Inc. in November 2006 and effective April 1, 2014, he became the Chief Executive Officer of HFF, Inc. Mr. Gibson is one of HFF's founding partners having joined HFF's predecessor firm, Holliday Fenoglio & Company, in 1984.