From:                                         TREC - Constant Contact
Subject:                                     REAL BRIEF: Young Guns Project Ribbon-Cutting & WeCreation Center Tour; Ray Hunt Podcast; John Adolph & Drew Shivley Spotlight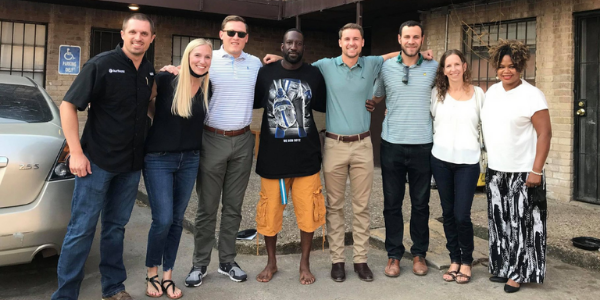 Young Guns Project Ribbon-Cutting Ceremony
& WeCreation Innovation Center Tour
Join us as we cut the ribbon on the 2021 Young Guns Community Investment Project, a renovation of the Grace at Holmes apartment complex, and tour the 2020 Project, the WeCreation Innovation Center.
FightNight Tables Available
Mark your calendars for FightNight XXXIII returning on Thursday, September 29 at the Hilton Anatole. We are excited to get back in the ring this year with our members, friends, and partners in the commercial real estate industry.
Platinum Table: $14,000
Gold Table: $12,000
Silver Table: $10,000
If you are interested in purchasing a table, please contact Kristin Urias.
Community Investors Spotlight: May 2022

This month, we are proud to recognize John Adolph (Winstead PC) and Drew Shivley (ME Engineers) for their contributions to TREC Community Investors.

TRECcast: Ray Hunt, Hunt Consolidated

PRESENTED BY THE DALLAS BUSINESS JOURNAL

Our Legends of CRE podcast series continues as we sit down with Ray Hunt of Hunt Consolidated and discuss his life, career, and keys to successful leadership.

Listen Now: Apple Podcasts | Spotify | Amazon Music

Watch: YouTube
Dallas City Council OKs Mixed Income Housing Development Program Expansion
On Wednesday, May 11, Dallas City Council approved the expansion of the City's Mixed Income Housing Development Bonus (MIHDB) program. TREC and our members worked tirelessly with the city over the past year to ensure that this program would provide meaningful benefits and certainty to developers as Dallas continues to work on addressing our critical housing shortage.
Spotlight: Steve Aldrich of Hillwood Properties

Get to know this year's Leadership Development Advisory chair as he talks about his experiences as an Associate Leadership Council (ALC) alum, the importance of lifelong learning, and how he would spend a day off.

Congratulations, Real Estate Bootcamp Grads

TREC Community Investors' annual five-part educational program about the complexities of the real estate development process concluded on Saturday with a case study competition and graduation ceremony.
3100 McKinnon Street, Suite 1150, Dallas, TX 75201