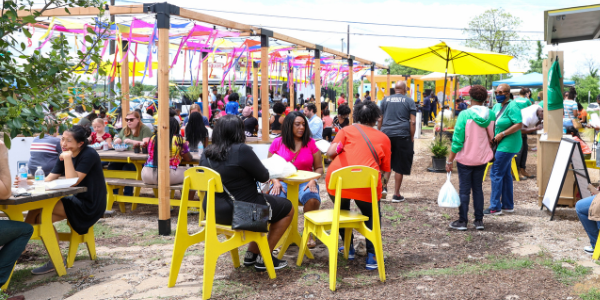 A Discussion on Adapting to the Challenges of the
Dallas Collaborative for Equitable Development
Join us Wednesday, August 31 for a virtual discussion about the second year of the Dallas Collaborative for Equitable Development (DCED), as detailed in our white paper, "The Dallas Collaborative for Equitable Development, Year 2: Adapting to Old and New Challenges in Southern Dallas."
Learn About the DCED | Read the White Paper | Register to Attend
Speaker Series Tickets Will Be Available at the Door
BANK OF TEXAS SPEAKER SERIES IS PRESENTED BY THE DALLAS MORNING NEWS
Online registration for tomorrow's exclusive conversation with Crescent Real Estate Co-Founder John Goff has closed, but a limited number of tickets will be available at Arts District Mansion. Networking begins at 11:30 a.m.
Member Spotlight: Take Five With Chris McCluskey
The 2022 Membership Chair talks about the return of the midyear membership pricing period, recruiting new members to TREC, and what parts of Dallas he'd show to newcomers.
Welcome, New TREC Members: July 2022
Our membership base of commercial real estate professionals and companies is crucial to our work in catalyzing community investment, influencing public policy, propelling careers, and developing the leaders of tomorrow. Help us welcome the members who joined TREC in the last month.
North Texas Giving Day 'Early Giving' Begins 9/1

Make a contribution to TREC Community Investors and support our neighborhood revitalization efforts in the Forest District and beyond.

Don't Miss the Final Bell for FightNight XXXIII

Don't miss our biggest night of the year. Tables for FightNight XXXIII: Breaking Ground have nearly sold out! Get yours NOW before it's too late!
TRECcast: The Best of Legends of CRE, Season 2
PRESENTED BY THE DALLAS BUSINESS JOURNAL
Get the best advice, stories, and insights from our interviews with Craig Hall, Lucy Billingsley, Ray Washburne, Mark Gibson, Sue Ansel, and Bill Cawley.
3100 McKinnon Street, Suite 1150, Dallas, TX 75201