When the Design District's forthcoming Virgin Hotel opens later this year, it will strive to combine a vibrant entertainment atmosphere with a homely vibe in its 268 guest "chambers" (better known outside Richard Branson's empire as "rooms"). One June 6, The Real Estate Council's Young Guns members had a chance to get a sneak preview of the company's third U.S. hotel with a hard-hat tour of the ongoing construction.
Bringing Branson's vision to Dallas – Virgin has already opened hotels in Chicago and San Francisco, with many more set to open across the country in the next few years – has been an exciting challenge for developer Dunhill Partners. Architect Lauren Cadieux with 5G Studio described the challenges in blending the two visions, such as changes to the building's facade. Representatives from Andres Construction described to the Young Guns in attendance how they created "metal lace" on the sides of the building to achieve Virgin's luxurious-yet-whimsical aesthetic, as well as framing with enough flexibility to absorb movement and vibrations from both the building and parking garage.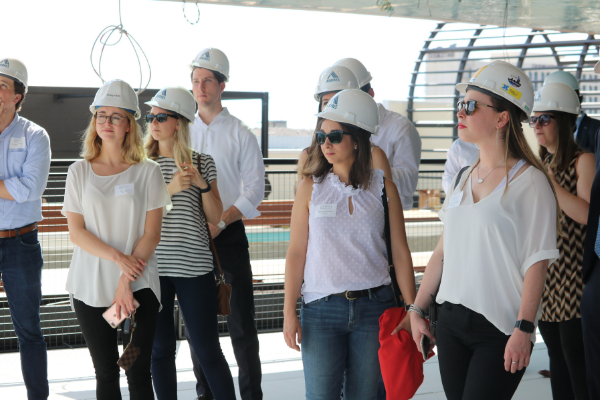 Tour participant Max Schwartzstein of Providential Realty Partners considered Virgin's design goals one of the most interesting components of the tour, saying "The construction team was very open about the challenges of the construction of this feature and the problems that they had to solve in order to install it. It is obvious that a lot of time and effort has gone into the design and construction of the Virgin Hotel."
Upon entering the hotel, guests will be greeted by the lobby's Commons Club bar and restaurant, which features a racetrack bar, show kitchen, and several semi-private dining areas. Its second floor features a large ballroom with an acoustic ceiling and entertainment space wired for A/V and panoramic views of both Uptown and Downtown Dallas. Entertaining continues outside with an indoor/outdoor poolside bar overlooking Downtown and the Design District.
"Virgin as a brand has such a unique, joyful quality about them that's wonderfully woven throughout the project, said tour participant Randy Streig of 42 Real Estate. "Every room, bar, and corridor has that playful feel that just sets your mind at ease and says, 'Let's have some fun!' We're lucky to have the Virgin hotel in Dallas. Plus, I can't wait to throw a party there!"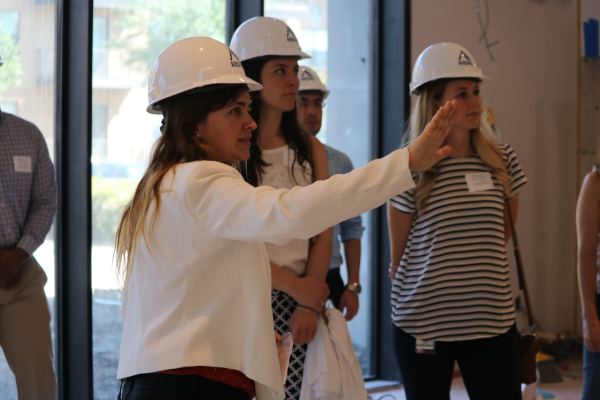 Hotel rooms feature light-colored finishes intended to feel home-like, with accents in Virgin's branded red. The design doesn't just focus on hotel guests; the Virgin Hotel also includes comfortable spaces for its 100-plus employees, including light-filled offices and a high-ceilinged "family room."
After the tour, Young Guns gathered at Rodeo Goat to discuss their experience.
"The About Town tours are one of my favorite parts of the Young Guns membership. Each tour is always so informational and we have opportunities to ask questions and get information that we traditionally would never get to know about a property," said Julia Beckman with MBL Title. "I'm so excited to go back once the project is complete to see how everything turns out!"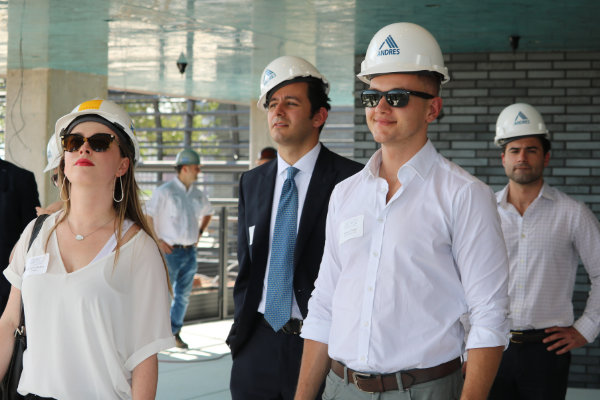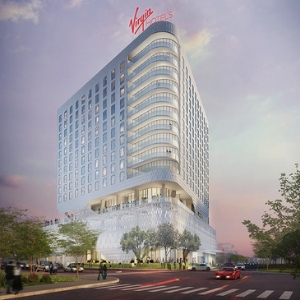 Tags: