Located in the West End Historic District of Dallas, Factory Six03 is Plano-based Granite Properties' remodel of the 113-year old building previously known as West End Marketplace and originally home to Brown Cracker and Candy Co. At the most recent About Town, TREC Young Guns toured the redevelopment and experienced firsthand a bit of the old and much of the new.
The tour began with a video and presentation of the future product, intended to be delivered next February. The video allowed us to visualize the transformation of the 237,000 square foot building, which will include ground floor dining and entertainment, an added roof top patio overlooking West End, a community lounge and over 200,000-square-feet of "wicked office space." After the video, Aaron Bidne of Granite Properties discussed their story, covering everything from initial plans to challenges. Aaron and his team at Granite Properties had a vision to provide a "new Class A Building with a historic shell" and creative office spaces. To help make this vision come to life, Granite reached out to obtain Federal and State incentives, provided as Historic Tax Credits through a three phase submission process.
Following the presentation, we put on our hard hats and headed into the construction zone. Entering the old, red-brick building, many of us felt nostalgic as we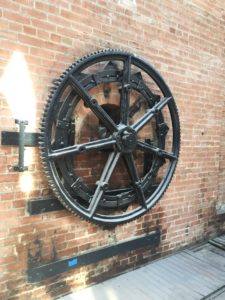 walked through the former lively entertainment center of Dallas. The area, once filled with people attending the Cinema, will be converted into creative office space and lounge areas. However, those who knew the building will still be able recognize the space by the columns and reclaimed wood floors. Granite has maintained much of the "old feel" inside the building through the use of brick and timber, reclaimed floors and leaving unique elements, such as the old oven owned by Sunshine Biscuit Company, untouched.
The historic touches combined with modern open layouts, exposed spiral ductwork and much more makes Factory Six03 exceptionally attractive to prospective tenants. I look forward to dining in the restaurants located in Factory Six03 and watching one of the most unique areas in Dallas come back to life.
Neda Hosseiny has served as a Civil Engineering Analyst for Kimley-Horn for over three years, having a background in commercial, retail and multifamily land development. She joined TREC shortly after joining Kimley-Horn, making her a TREC Young Gun member for almost three years.