TREC's Associate Leadership Council helped cut the ribbon on the newly renovated We-Cycle Resource Center on Wednesday, marking the culmination of this year's ALC Foundation project in collaboration with the nonprofit Bike Friendly South Dallas and Cornerstone Baptist Church as part of the Dallas Catalyst Project.
The 2,650 square-foot facility, located at 1616 Al Lipscomb Way, will promote bicycle safety, quality transportation, and education for residents. The renovation received a $100,000 TREC Foundation grant, the largest for any ALC Foundation project.
"It is our hope that the positive relationships that this year's ALC class has forged with Cornerstone Baptist Church and Bike Friendly South Dallas will continue to inspire these young leaders throughout their careers and propel the important work that is being done at this resource center and within the Forest District community," said TREC Chairman Jim Knight in his remarks during the ribbon-cutting.
Selecting and completing a community investment project via TREC Community Investors is part of each year's Associate Leadership Council class, which is comprised of 30 commercial real estate professionals between 27 and 37 years old who participate in the 10-month leadership development program.
This year's ALC class selected the renovation of a building owned by Cornerstone Baptist Church, one of the three primary community organizations collaborating with TREC Foundation on the Dallas Catalyst Project, and leased to Bike Friendly South Dallas, which champions bicycles as an alternative means of transportation in South Dallas.
The Dallas Catalyst Project a partnership between TREC Community Investors, Cornerstone Baptist Church, St. Philip's School & Community Center, and Forest Forward to revitalize part of the Forest District neighborhood in South Dallas according to the vision of its residents. TREC initially invested $1 million over three years, as well as grants and professional services from its 2,200 members and 650 member companies, toward Dallas Catalyst Project initiatives.
Among the community leaders and dignitaries in attendance at Wednesday's ribbon-cutting were Dallas City Councilman-elect Adam Bazaldua (District 7), Bike Friendly South Dallas Founders Ashly Evans Fields and Stan Hart, Cornerstone Baptist Church Program Director Donald Wesson and Pastor Chris Simmons, who in his remarks said that children participating in Cornerstone's summer programs who complete 10 hours of reading will receive a new bicycle.
Following the ribbon-cutting, guests toured the new facility, which will officially open later this summer.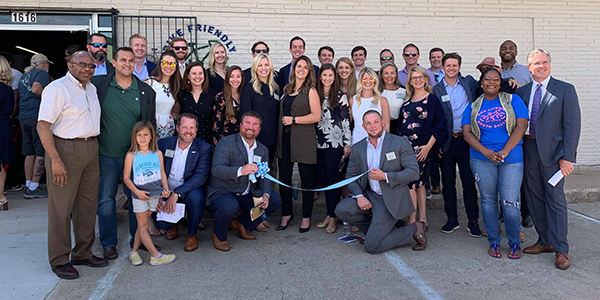 The Associate Leadership Council Class of 2019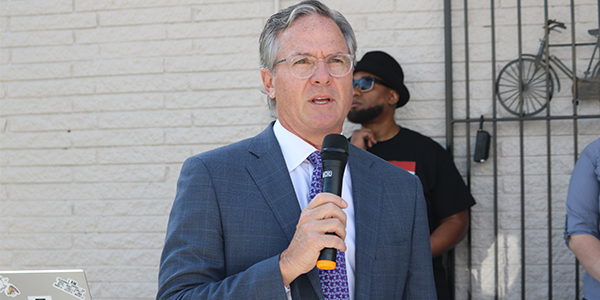 2019 TREC Chair Jim Knight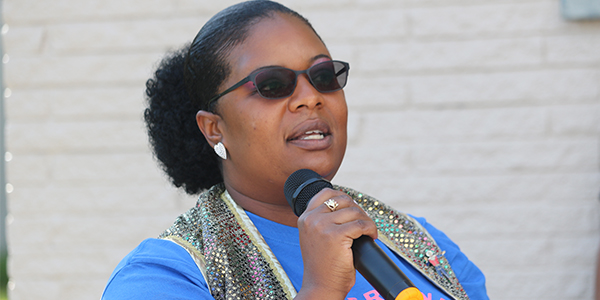 Bike Friendly South Dallas co-Founder Ashly Evans Fields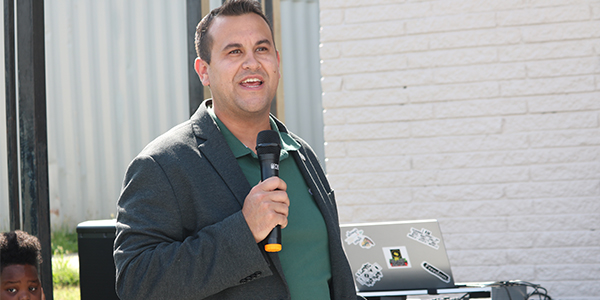 Dallas City Councilman-Elect Adam Bazaldua (District 7)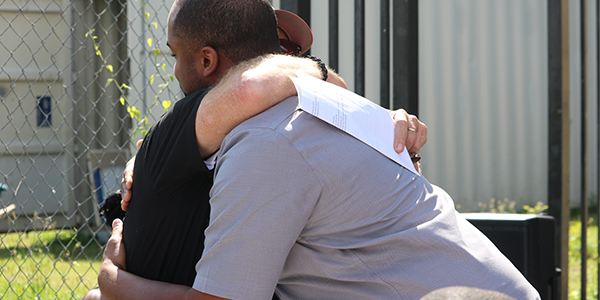 Bike Friendly South Dallas Co-Founder Stan Hart and Cornerstone Baptist Church Program Director Donald Wesson embrace during the ribbon-cutting ceremony.