From listening to the president and CEO of the Federal Reserve Bank of Dallas, Rob Kaplan, talk about his roots and his observations about Texans and our economy, one might not guess he sits on the board of one of the most towering and powerful committees on the planet. His story of learning about business by spending time with his jewelry salesman father isn't so different than many of our own stories. From his position, he gets a view of the world economy most of us don't see, yet his perspective and experiences seem similar and familiar to our own.
At The Real Estate Council's Bank of Texas Speaker Series, he covered a wide range of issues from the collapse in oil prices, interest rates, banking and financial regulation, and fielded a question that most of us probably had somewhere in our mind, but perhaps not the courage to ask; what does he think about the federal debt?
Local Conditions
As we survey the current economic landscape, we see oil prices have collapsed, and tax revenues to the state have also declined. We see an increasingly volatile stock market. In our North Texas real estate market, we've seen soaring home values, growth and absorption rates not seen in a decade, and we ask ourselves, is this different than 2007?
Kaplan seems to think so, and I can't find a reason to disagree. With names such as State Farm, Kubota, Liberty Mutual, and Toyota all coming to North Texas, and for the simple fact that they're still under construction, we've got built-in growth for the next few years as these companies start moving in the office furniture and turning on the lights.
Global Conditions
Looking internationally, China will take decades to work through their problems and the world needs to get used to low growth there. Thinking about his comments and looking to how the dollar has appreciated, coupled with low growth overseas, it's something to definitely be watching when we're thinking about the manufacturing and export sectors of our economy.
Federal Debt
When asked about the federal debt, Kaplan identified that debt is an effective tool, but at the level that it's growing we will have big things to address in the future. We need more growth, advancements in productivity, or we'll have to make tougher decisions on the management of our national debt for future generations. It was an astute answer that identified a problem but leaves it to our politicians and other policy influencers to figure out exactly what mixture of growth, productivity and debt we're comfortable with or what the nation's tolerance for pain might be.
Interest Rates
Interest rates are always a hot topic for the Fed, as it has such a direct impact on the real estate deals that are able to be done, and the price they can support. He acknowledged that excess "accommodation" isn't free. Low rates push us into riskier assets and past a certain point, it creates distortions in the market. It's refreshing to at least hear an acknowledgement of the negative effects possible from one of the people guiding the decisions on future quantitative easing and interest rate hikes.
And for the million dollar question of if we should go out and place a bet on an interest rate hike or not, he said we shouldn't be speculating on future action by the Fed. I'm not sure if that's just sound investment advice, or if it means we'll be seeing more of the status quo for the foreseeable future. As for me and my view of the Texas real estate market from the trenches, it was good to hear the view from forty thousand feet still looks about as good up there as it does from down here.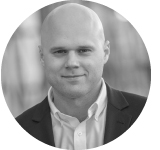 John is the founder and president of Biel Partners, LLC. His background is in industrial, office and land transactions representing tenants, buyers and owners. As a graduate of the University of Texas at Arlington with a concentration in Real Estate, and a North Texas native, he is able to leverage a unique network of business owners, civic and government leaders, and members of the community. He's successfully represented some of Texas' largest companies, and banks, as well as some of the smallest and newest entrepreneurs on unique deals that required an equally unique perspective.