Tell us a bit about who you are and the kind of work that you do.
I am a commercial real estate partner at Holland & Knight (formerly Thompson & Knight), where I have been practicing law for almost 13 years. I represent developers and lenders in various aspects related to all types of commercial real estate, including acquisitions and dispositions, development of property, financing, and structuring real estate joint ventures.
How did you get involved with The Real Estate Council?
I joined TREC because I had heard good things about the organization and wanted to meet more people in the industry and community. At first I didn't really know what it looked like to actively engage as a TREC member because there weren't too many people in my own organization that were actively involved with TREC, but in talking with some friends that were engaged with TREC or that had gone through ALC, I realized that was an opportunity that I wanted to pursue. So I started to think about the kinds of things I could do to get involved and meet more people, and as I started trying to get more involved, the more I got to see the grand scope of everything that TREC is able to do and various ways that I could pitch in, whether it's with my time or serving on a committee or monetarily or through various projects, like what Young Guns or ALC does. I realized you've got to start somewhere.
What was your ALC experience like as a member of the Class of 2021? Were you involved with your class project?
ALC was such a great way to really figure out what is going on in our city and how various aspects of our city operate and work together. You get to learn a lot about the history of the city and some of the strengths that we have and the opportunities we have for bettering ourselves as a community. You meet a lot of really neat people and make friends in various stages of their careers who are all going through it together with you. You also get to see the people that came before us and the impact they continue to make in the industry and it's exciting to be a part of that. Hopefully we'll get to look back in 10 years with the new classes looking at us and how we're involved in TREC and what we're doing in the city.
Your class doesn't end after your year in ALC, as we're all still very active with each other. We have a group chat where we can bounce ideas off one another, we still meet for lunches and happy hours and the hope is that these are lifelong friends and connections that last well beyond your time in class together.
Our class project was the South Dallas Cloud Kitchen. I primarily helped out with the various legal documentation that was required, both during our time in the class year and afterwards since our project got a bit delayed. It was an ambitious project and I'm glad our class decided to do it, even though it has dragged on quite a bit beyond our class year. We're optimistic it will wrap up sometime this summer. [Please note: the South Dallas Cloud Kitchen is still in production and set to open in 2023]
How did you get to be a part of TREC Community Investors?
I can't remember exactly how I first heard about TREC Community Investors, but I joined an informational session and it was really cool to see what they were doing and the impact that was being made, especially in the Forest District around St. Philip's School and the Cornerstone Church. While I didn't know initially how I could help, I realized my legal services were a unique skillset that I could offer. Some of it was a bit outside of what I did day-to-day in my job, but as an attorney I was still able to provide my expertise.
I've helped with all sorts of legal projects over the past few years, such as helping look through the Minor Home Repair grant contracts, the loan for South Dallas Cloud Kitchen, at the very beginning of COVID I helped review and revise the various waivers related to attendance and volunteer days. I also assisted Golden S.E.E.D.S. Foundation with their joint venture and some related legal matters.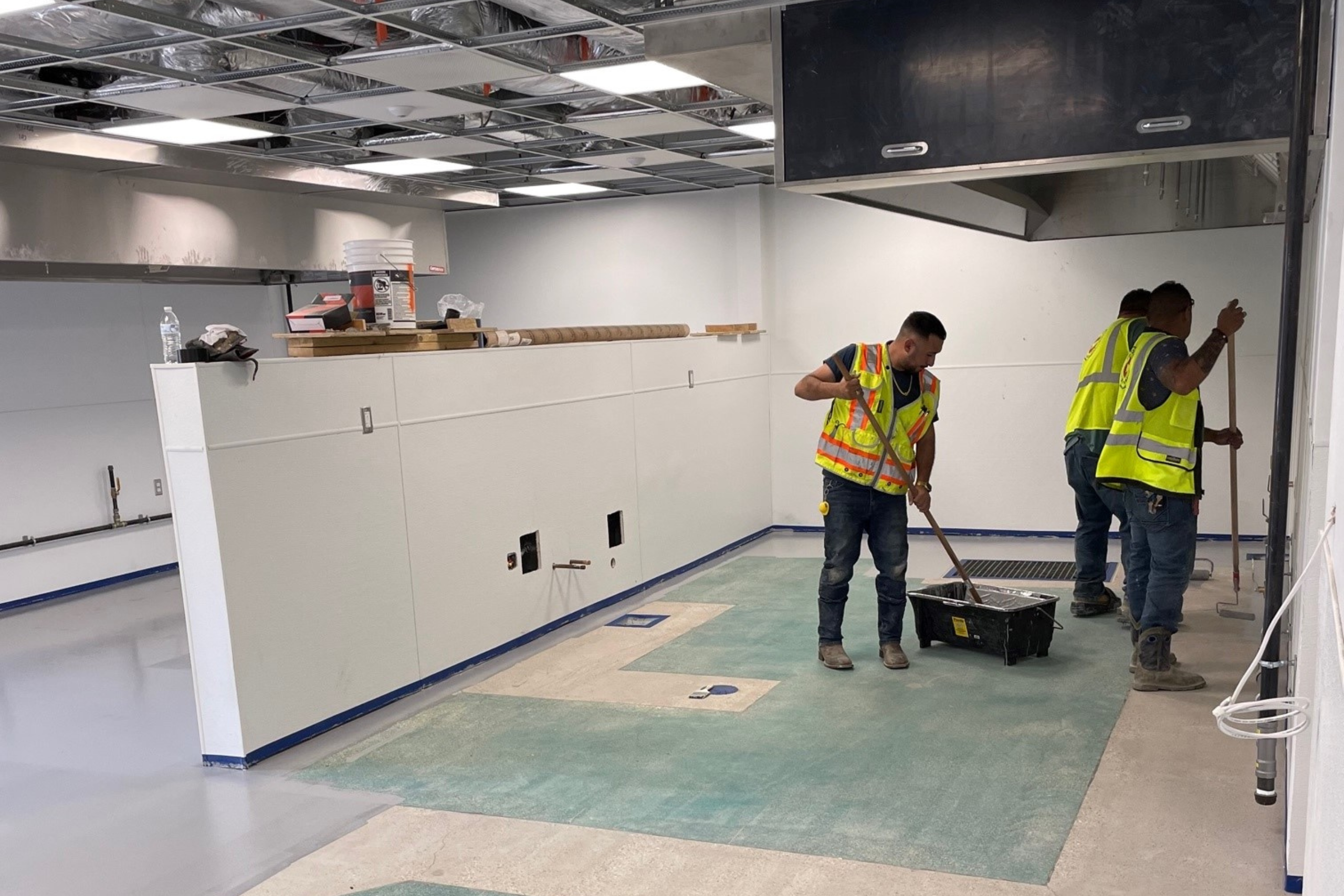 South Dallas Cloud Kitchen is expected to be completed in 2023.
This year, you're a member of the TREC CI Board. Why did you pursue that position and how has your experience been so far?
We've only had our initial meeting so far, but it was great to get to know all the different people on our boards and see the mission [TREC Chair] Trey [Morsbach] has for the year ahead. I'm excited to see how I can make an impact at the board level. I think it's the next step in my evolution of wanting to get more involved with TREC and participating in various aspects of TREC. Going through ALC made me realize the journey doesn't really end there. I have to continue to give my time and effort to see how I can make our city a better place.
Why is TREC Community Investors' work so important for the communities we've partnered with throughout Dallas?
I used to do pro bono work for a legal clinic that was based out of St. Philip's, starting in maybe 2013 or so and we'd go down to the school once a month. To see all the investment that's been made there in the last 10 years that help shape better outcomes for the community, to consider the totality of all that's been done there and will be done there, you realize how much it's impacted these people's lives and you hope to replicate that in other areas that could use that same kickstart.
It's so important for the communities we're working with because they're so often overlooked and under-resourced. You realize the complexity of some of the things you need to get through your day-to-day, and that some of these under-resourced areas just don't have the same level of access. For our city to continue to grow, we need to raise all aspects of it, instead of just developing the places that make the most money. A rising tide lifts all ships, so the more we can invest in the less invested places, the better it makes our community and city overall.
Connect with us: Upcoming Events | Get Our Newsletter | Subscribe to TRECcast